A mentor can play an incredibly important role in the life of a student. A mentor is someone who is experienced in a particular field or subject and can guide and advise a student on their academic and personal goals.
India has a long history of Mentorship learning. The Guru-Shishya Parampara, the traditional way of teaching and learning in India, where the relationship between the Guru (Teacher) and Shishya (Student) is considered sacred and revered. It is a system of passing on knowledge and skills from one generation to the next through a personal relationship between the teacher and the student.
In this system, the teacher takes on the role of a mentor and guide, providing not only academic instruction but also life lessons. The teacher is seen as a source of inspiration, wisdom, and guidance, and the student is expected to show utmost respect, dedication, and obedience to the teacher.
Taking inspiration from this system of learning, Mr. Sachin Jain Sir (IRS 2016) has established ENSURE IAS, the Best IAS Coaching Institute in India.
About Sachin Jain Sir
Mr. Sachin Jain is an IRS officer of 2016. He has a unique distinction of cracking the UPSC CSE not only once but twice. He got AIR 712 (2015) and AIR 286 (2016).
He will be mentoring the students so that they get the exact method of cracking UPSC CSE. He has experience of guiding and mentoring of 1000's of students in last 11 years as he has been mentoring since 2012.
At ENSURE IAS, Sachin Sir acts as a friend, guide and philosopher to the IAS Aspirants and help them fulfil their dream of becoming part of the bureaucracy of world's largest and most diversified democracy.
At ENSURE IAS, under the personal mentorship of Sachin Sir, students learn the nuances of the UPSC Civil Services Examination and the tips and tricks to crack this examination which makes the preparation journey of the students much easier and clearer.
The entire faculty team of ENSURE IAS consists of recently selected officers who are in touch with the dynamic nature and demand of this exam.
Importance of Personal Mentorship for IAS Exam
Why IAS is cleared relatively more easily by those who have any family member from Civil Services?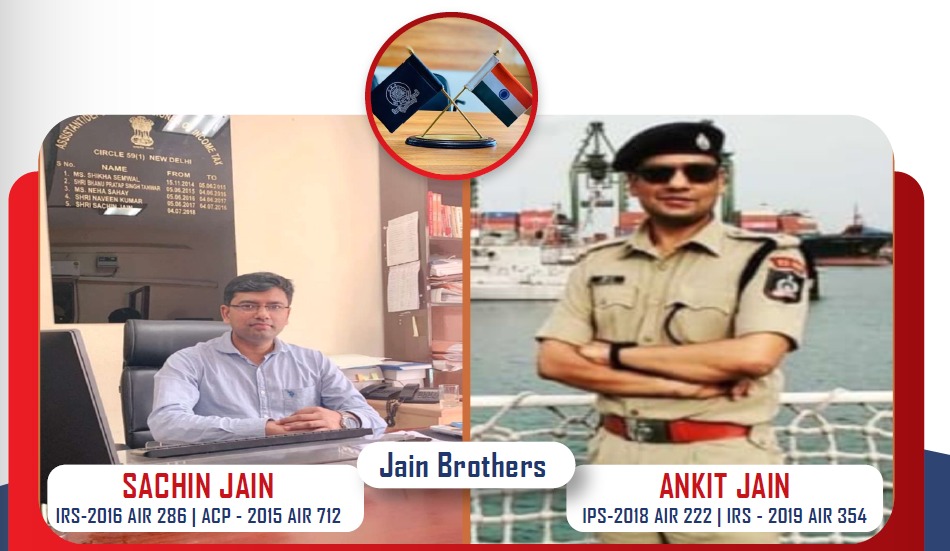 The answer is: "Those who know the tricks, they & their family members crack it easily everytime"
The open-ended syllabus of the examination and multitude of subjects, varying from social sciences to mathematics, and large expanse of study material available in market, it becomes tough for the aspirants to devise a particular winning strategy and stick to a particular path to crack this examination. In such a scenario, Personal mentorship and guidance of an expert becomes sine qua non to crack this examination.
Sachin Sir, based on his CSE exam preparation experience, helps student in devising a clear strategy and study plan which helps them channelizing their energies and focus and thus enhancing their chances of clearing this exam exponentially.
Also, it is based on this experience and personal mentorship, Sachin Sir helped his brother Mr. Ankit Jain to crack this exam in his very first attempt. Mr. Ankit Jain Sir is currently serving the nation as an IPS officer.
In past one decade, along with his brother, Sachin Sir has also helped thousands of IAS Aspirants to clear this exam and start their dream career.